June 2016
Hello,
I'd like to fill you in on some recent developments! We just launched our brand NEW Facebook page that will keep you up-to-date on all of our current promotions and contests… Including our all-new "Customer of the Month" award! So please, don't forget to "Like" us and connect with us at Facebook.com/DryCleanerValetGA!
I'd also like to personally thank those of you who've taken the time to write us Facebook reviews. My team and I pride ourselves on your satisfaction, and we see Facebook as an opportunity to take our customer service to the next level.
If there's any way that we can improve your experience with our service, please don't hesitate to call (678) 467-4706 or email me at Dduvall@drycleanervalet.com.
Sincerely,
David DuVall

Did You Know?
Frequent dry cleaning has been proven to prolong the life of a garment. Not only do stains set with age, making the garment unwearable, but ground-in dirt and soil can actually act as an abrasive, causing rapid wear and tear of fibers, which leads to pilling and holes! But that's not all… Insects are attracted to soiled clothes (particularly to food or drink stains) and will eat holes in the fabric.
Team Member Spotlight: Daniel Rogers
Director of Route Development
Has been with DCV for 9 years
Enjoys golfing, hiking, and poker
Forsyth Central High School Class of 2000, attended Truett-McConnell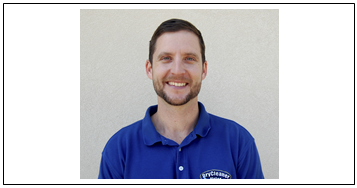 This Month's Promotions
Get excited… It's our first Annual Referral Contest! We are holding a drawing for an Epic Grand Prize… Our Movie Lover's Gift Basket, which includes:
a $100 gift card to AMC Theatres
ssorted movie snacks, candies, and treats
two delicious bottles of wine for a fun night in!
Now through July 31st, your name will be entered ONCE into the Grand Prize Drawing for each referral that uses our service. So, if three of your friends sign up with us, you get TRIPLE the chances of having your name drawn! The more referrals you submit, the greater your chances of winning the Grand Prize!
But that's not all… We are also creating a Gourmet Prize Basket for whoever submits the MOST referrals! This gift is our way of saying "Thank You" for your business, your loyalty, and for telling your friends and family about us!
*As always, we're offering $10 of FREE dry cleaning to you for any referral that uses our service—and your referred friend will also receive $10 of FREE dry cleaning!
Garment Care Talk
Q: How do I avoid knit "hanger humps"?
A:  We've all seen people walking down the street with hanger humps on their shoulders – don't let it happen to you! Knit garments should be folded and placed over the bar of the hanger, not hung from the shoulders. The weight of the fabric pulls the material down, which causes hanger humps and can stretch heavier knits out of shape.
Say What?
"Dress shabbily and they remember the dress; dress impeccably and they remember the woman."
— Coco Chanel